Lexxi Foxxx and Steel Panther
Steel Panther brought the Sunset Strip to a sold-out show in Stroudsburg, Pa. on March 31st.  They played covers and originals.  Either pick celebrated what metal is all about, because Steel Panther continues to keep the scene alive, and at the same time, advance it.
Written by: Kendle Peters, 90.7 WCLH Wilkes-Barre/Scranton/Hazleton Metal Director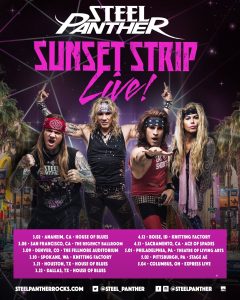 Generally, it seems anyone open to having a great time, will do so at a Steel Panther show.  Their performances are jaw and panty dropping as Michael, Satchel, Lexxi, and Stix keep the audience entertained all night long, baby.  At this particular show, Satchel also kept the audience in check.  Some jabroni threw his beer from the side-stage balcony, and it landed right in front of the guitarist.  Satchel himself got the loser kicked the hell out.  Then, the shredder let everyone else know: no more wasting alcohol when Steel Panther's in town!
The band was tight, just the way they like it.  Their masterful musicianship is the perfect compliment to their limitless songwriting.  I hate country music, but I do like me some Wheeler Walker Jr..  If you don't know Wheeler, I like to think of him as the Steel Panther of country music. Both Steel Panther and Wheeler have enough creativity and originality to make their music enjoyable to the masses.  Because Steel Panther has the ability to seduce anyone, I am glad they are reaching 20-year-olds, who Mr. Trunk once claimed, are not in on the joke.
Well, wipe of that smile off your face!  Do you think this is a joke?!  It's not maaaan, this is what Steel Panther does, it is who they are.  What's more real than having to go in the back door, some chick throwing away your Dokken CDs, or what's in Michael's pants?  Steel Panther IS metal appreciated by hardcores and not-so-hardcores, so get with it before some fat girl sings.  Oh, and they will blow you…. away.
The Sunset Strip Live tour is still going strong, I talked with Lexxi about it at the show.  Check out the interview below.
---
[spreaker type=player resource="episode_id=14437889"]
Lexxi Foxxx, bassist of Steel Panther, talks with me before playing the Sherman Theater stage in Stroudsburg, Pa. We talk their current Sunset Strip Live tour, latest release Lower the Bar (2017), and the hard rock/metal attitude. Steel Panther is back in our area on May 1st at the TLA in Philadelphia.
Thank you to Lexxi and Steel Panther.
http://steelpantherrocks.com/
wclh.org
kendlepeters.com